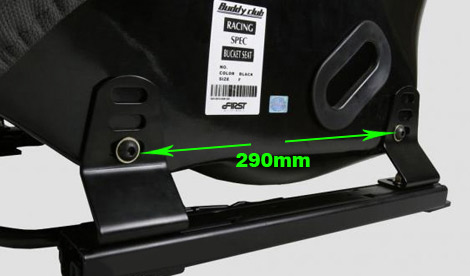 BUCKET SEAT RAILS
Steel OEM floor fitting buck seat rails with side mounts, fit industry standard 290mm ( +/- 6mm ) side mounted bucket racing seats. We have a wide range of knowledge enough to help you choose what fitting you need.

Buddy club & M2 Motorsport sliding seat frames are known to fit the following branded seat manufacturers.
Bride - Bimarco - Border - Buddy club - Cobra - Corbeau - Driftworks - D2 Racing
GP - LTEC - Mirco - MOMO - OMP - Recaro - Reverie - Sparco - Status - Takata
Tillet

Check your side mounted holes have an average 290mm ( +/- 6mm ) distance front to rear..

NOTE: underside bolted seats can be made to fit by making your own plates, but this may affect the seat height so check that the seat squab does not interfere. Buddy club sport reclining seats are under seat mounted and come with brace plates.